Programs
Student Life
Our Alumni
Programs
Empowering
learners for a
brighter tomorrow
Student Life
Our Alumni
Rangoli International School, located in the heart of Mehsana city is one of the best schools in Mehsana. RISM is an initiative of Pratham Educare operated by Paridhan Foundation.  We understand that you entrust our school with your most precious possession, your child.  We take this responsibility very seriously and we work hard at RANGOLI to provide a safe and caring environment for each and every student.  We believe in creating an environment at school which will enable each of our students to reach their true potential.
Begin your journey with us
Head to our enquiry form and drop your details to submit an application for your child. 
Get to know the incredible facilities offered at RIS first hand with a quick campus tour. 
Connect with us to learn more about our syllabus, extra curricular activities and more
We've designed the four petal pedagogy system to facilitate holistic development for students. This unique model lays a strong emphasis on activity-based learning to develop important knowledge, concepts, skills, and attitudes.
At Rangoli International School, Mehsana, we offer the best learning environment by providing top-class infrastructure and facilities to students. Learn more about our facilities here. 
Rich Library
Well Equipped Sports Room
Creative Art Room
Canteen Facility
Spacious Classrooms
Audio-Visual Teaching System
Children Play Area
Skating Area
Well-Equipped Laboratories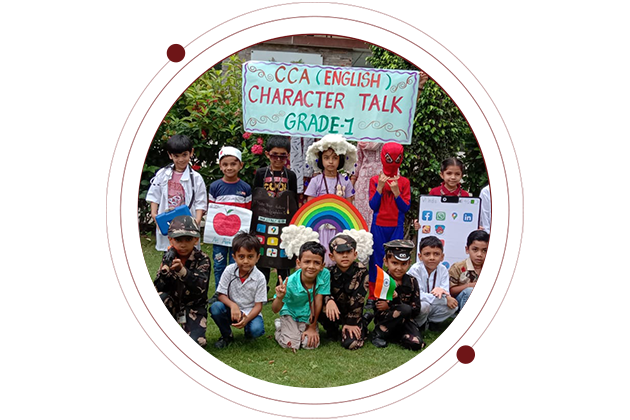 I am impressed with the curriculum and teaching methods which are different from other schools. Well planned worksheets for practice makes my child think beyond prescribed Textbooks. I feel that my decision was right in sending my child to Rangoli International School. Keep it up!
Rangoli International School is one of the best premier educational institutes found in North Gujarat. Both of my kids have been studying in RIS since its inception. School is like a temple where teachers are our Gods & Goddesses. It is my pleasure to give responsibility to my kids to such a prestigious institute. It has transfigured my kids' mental, emotional, physical & spiritual growth. Thank you RIS 🙏🙏🙏
Thank you so much for all RIS has done to help my child grow and learn. I really appreciate the school's dedication to teaching and the care taken to ensure that each student succeeds. Creative approach to teaching has helped my child understand difficult concepts with ease, and I know they have benefited a great deal from school. School has always understood the needs of my child and have supported the same. School's approach towards burdenless education is really a need of time and this initiative will result in the all-round development of the student. RIS PEDAGOGY to focus on holistic development by providing a stress-free and joyful environment to the children is really appreciated. Thank you for all that..
My Daughter is studying in RANGOLI INTERNATIONAL SCHOOL for the last one year. I am very satisfied by seeing improvement and a remarkable confidence level in my daughter's overall personality development, speaking skills and physical activities. The teachers are really good and dedicated. Teachers are professional, caring and well organised. I like the teaching methods of RIS Where focus is given on less child student teacher ratio. She got ample opportunity to explore through different concepts and theme-based activities. I will always be grateful to this wonderful school. Fantastic School" I would like to extend my gratitude towards school and also wish and Hope that these extended efforts would continue.
Dear Rangoli International School, We are grateful for the exceptional education and nurturing environment provided to our child, Pritam Rampure. The quality of education, caring teachers, and various activities have contributed to his remarkable growth in academics and personal development. The dedication and expertise of the teachers have fostered a love for learning in him, ensuring he reaches his full potential. Thank you for your unwavering commitment to delivering excellence in education. We look forward to continued collaboration and success in the years to come. Sincerely, Proud Parents of Pritam Rampure
We as parents, feel proud to be associated with "RIS, Mehsana". We really want to appreciate the whole team and the Management of the RIS for bringing out the best of our kids. The school is doing wonderful work for the students, inculcating the students with indispensable knowledge and preparing them with the skills to stand out in life. Our children are safeguarded from all of life's negative influences because teachers shower their love in ton and not just ounces. Thank you to entire RIS school staff and management for always giving us feedback on our child's performance and improvements. We are always heard with respect whenever we wanted to talk about our child. Kudos to RIS, Mehsana.
Rangoli International School is one of the best school in Mehsana. The school has highly qualified team. The culture of the school is outstanding. My children are always enjoying at school. Our experience with the management and academic team has always been positive.
My daughter attends RIS, Mehsana and we all love it. The teachers are great & very helpful. The lesson plans & curriculum are encouraging & promising. The atmosphere is well thought out, and just a beautiful place for children to grow/develop. I would highly recommend this school to anyone in search of quality education for their children or grandchildren. After all, children are our future! I recommend RIS, Mehsana for number of reasons, such as clean environment, organized classrooms and professional team. Safety has been given a top priority for the kids.
Are you ready to join us?